37 Ways You'd be Better Off as a Bum
First, apologies for the blatantly provocative title (although I do make good on it). But did you know that some people prefer to be homeless? I know, sounds crazy right? But I was watching a news story recently about the growing homeless population in Britain, and the US, and it seems some homeless people stay in their situations on purpose.
Now, one thing was made quite clear; no-one chooses to be become homeless. It is definitely a situation that is thrust upon people by circumstance. Over 95% hate the life they live and want out. But after a few years, a small percentage become used to the lifestyle, in the same way that some inmates become "institutionalized" in prison.
As it turns out, some of the pressures of living a homeless life are comparable to the pressures many of us face living our typical "American Dream" lifestyles. When I say typical, I mean the average family that has credit card debt, struggles to pay bills and wonders how they'll ever be able to afford to put their kids through college and, one day, retire on a livable wage.
And homeless people can make a pretty good living collecting change. In one article that I found from Associated Content. Deanna Anderson describes in detail how her father-in-law chose to stay homeless, despite the offer of some help. He did stay during the Christmas break, however, and Deanna recounts this tale:
While he was staying with us he asked for some cardboard. Thinking he wanted to do something for the kids (he loved to draw) I gave him some. I cringed with shame when he wrote "Homeless, please help" on the cardboard. He asked for a ride to Wal-Mart and stood outside all day (about 5-6 hours) collecting change. This was his job every day excpet Christmas Day. On a bad day he came home with $20.00 and on a good day he'd come home with $70.00 (what I make in a day filing, typing, and dealing with people in an 8-hour shift). He came home with an entire foot-long sandwich that someone gave him and a warm fuzzy blanket because "no one should be cold during the holidays."
There are also stories of some panhandlers earning $800 a day:
Anecdotal accounts suggest a few panhandlers do quite well. For instance, a recent news story tells of Jason Pancoast and Elizabeth Johnson, self-described "affluent beggars" from Ashland, Oregon. The couple estimates they can make $30-40,000 per year from panhandling. They boast earnings as high as $300 per day, and assert they once made $800 in one day. Similarly, a former Denver City Council president claimed to know panhandlers who made hundreds of dollars per week, or even per day. City Councilwoman Elbra Wedgeworth said, "I know some people are making $150 to $300 or $400 a day. There are some people who are in desperate situations but many who are panhandling for a living." One hesitates to generalize from such stories, though.
And this, from my home town of Denver:

According to a recent survey conducted by the Downtown Denver Partnership, 42% of the population has given money to panhandlers in the past year and the average person there gives $1.84 each time he or she is approached by a panhandler, for a total of about $25 a year. This adds up to an awful lot of money - a total of over $4.6 million, divided among about a thousand panhandlers. That's an average of about $50,000 per active panhandler per year, with confidential interviews with panhandlers indicating that they make between $35,000 and $100,000 tax free per year and view panhandling as the equivalent of a job or a profession. Some even have homes and support families on their panhandling income.
Fox affiliate KMSB-TV reported that panhandlers in the area are making $40 per hour! That's over 5 times more than minimum wage, and remember, this is tax-free. Outrageous. A former boss once told me that there was a beggar in London who camped outside of a very grand restaurant called The Ivy and committed Grievous Bodily Harm to keep another beggar off his spot; it was THAT lucrative. And I recently saw a photo of a beggar advertising his PayPal account. Wait, what?! (Looks like someone's having fun with Photoshop).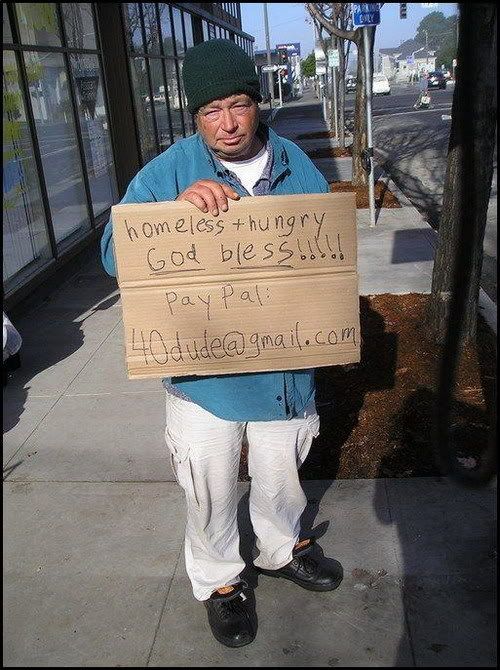 Now, those seem to be examples of extreme cases. I suspect much of this is speculation and exaggeration. And clearly, some of these people aren't really homeless, they're more like con-artists. Most of the time, when I see a beggar, they really do look very down on their luck and desperate for a meal and a warm bed. Sometimes, I've offered a homeless person food and have been turned down; what they want is money for alcohol or drugs, and many people say "who can blame them?" On other occasions, I've given beggars the leftovers from my restaurant meal, or offered to buy them a sandwich or burger, and they were smiling from ear to ear.
And let's not forget that there are homeless families out there too. As a father of two, I can't imagine what kind of pressure that it. But getting back to the title of the story, over my few days of looking into this story, I've heard and read many accounts of how beggars and "bums" have less to worry about than us regular civilians; some even say they have it easy. Some of these came directly from the mouths of people begging on the streets, I kid you not. I'll be praying that I never get the chance to find out, but here's the list. Take it all with an enormous grain of salt.
37 ways you'd be better off as a bum.
You don't pay taxes on any money you collect
You don't have a mortgage
You don't have a boss
You can never get fired
You have zero debt
You can pick up and move anytime you want
You don't have a car payment
You don't get stuck in traffic jams
You'll never break down on the motorway
You don't have to pay bills
Or remember to pay bills
You don't care about your credit report
You don't get harassing calls from collection agencies
You don't get calls…period
You don't have to deal with junk mail
You don't have to wake up to an annoying alarm
You don't have to do laundry
You don't get criticized for bad fashion choices
You don't have email to check (Well, apart from PayPal dude)
You don't have to wait three hours in security at the airport
You don't have to attend parties with people you hate
You don't have to fix yet another paper jam
You never have to sit through an ad featuring Billy Mays
You don't have to vacuum
Or spring clean
Or scrub the toilet
You don't get bothered by cell-phone salesmen in malls
You don't care about identity theft
You don't give a crap about reality shows (you're living one every day)

Going to jail for the night means a warm bed and a meal


You've (probably) never heard of Paris Hilton or Kim Kardashian
Newspapers are actually handy; and you can read them too
You don't care if gas hits $4 a gallon
Sell-by dates are your friend
Every cent is valuable to you; spare change is an oxymoron
Hair salons are a joke
You can say you're free...and mean it
I know, for every one reason listed there are five that would prove how bad it is to be homeless. But that doesn't stop some people from choosing to stay on the streets; and some con artists making a very good living on the back of your sympathy and good will. Personally, I much prefer donating to homeless charities and shelters than to give it to someone on a street corner or at the traffic lights. I know my money is definitely going to help someone who needs it.

Further reading:

http://www.pubmedcentral.nih.gov/articlerender.fcgi?artid=121964
http://en.wikipedia.org/wiki/Beggar
http://blogcritics.org/archives/2005/08/24/020301.php
Disclaimer: The links and mentions on this site may be affiliate links. But they do not affect the actual opinions and recommendations of the authors.
Wise Bread is a participant in the Amazon Services LLC Associates Program, an affiliate advertising program designed to provide a means for sites to earn advertising fees by advertising and linking to amazon.com.