Best Credit Cards for (New) Parents
This post contains references to products from our advertisers. We may receive compensation when you click on links to those products. The content is not provided by the advertiser and any opinions, analyses, reviews or recommendations expressed in this article are those of the author's alone, and have not been reviewed, approved or otherwise endorsed by any bank, card issuer, airline or hotel chain. Please visit our Advertiser Disclosure to view our partners, and for additional details.
Any parent will tell you that there's nothing that can prepare you for how much having a baby will change your life. And while there's little that can be done to prepare you for how much a baby will change your finances, as a new mom (my son is now nine months old), I have one unexpected tip — apply for a new credit card.
When you become a parent, where you spend your money changes drastically overnight. One night you're heading to happy hour after work, the next you're changing diapers and feeding a baby. You may have traveled every month pre-kid. Post-kid travel is far more difficult.
Kids are amazing, but they change your lifestyle and spending habits. So, your credit card rewards program should probably change too. The good news is that several credit cards offer great rewards and protection for new moms and dads.
Your Spending Changes, and the Cards to Fit
Here are three major ways your spending changes with kids, and which credit cards you should use for your new ways of spending.
Pre-kids: You go out to movies, restaurants, and bars.
Post-kids: You buy more groceries and stay home.
Any credit cards you have that pay high rewards for entertainment or dining out should be stashed in your freezer post-kids. You'll be doing a lot less of this than you did before children. (But that's ok, because your child entertains you with his constant discoveries and endless antics.)
Instead of dining out or heading to the bar or movies, you'll be spending more time cooking at home. If you don't already have a rewards card that pays you top dollar for groceries, get one now:
Pre-kids: You can pack a weekend getaway bag in 15 minutes and jetset at a moment's notice
Post-kids: Vacations are few and far between, due to the bigger costs and planning required
It used to be easy to drop what you were doing and take a few days off, whether it was a weekend trip to Vegas or a fun filled week in Mexico. Nowadays, each additional airfare required to get everyone on board is an extra few months of scrimping and saving. But don't worry. There are credit cards that will get you on your much deserved vacation sooner. Rack up on points and miles to get discounted tickets and rooms. There's no credit card to help you with the packing, though.
Pre-kids: You go to many stores for household items.
Post-kids: You start shopping mostly at one or two stores.
If pre-kids you went to one store for eggs and milk, and a different store for toilet paper and paper towels; post-kids you'll now shop at just one store for everything. Research shows this, and companies are vying to be the one-store-fits-all for new parents. It's a hassle to take kids of any age in and out of their car seat and into multiple stores. Plus, you just don't have time to shop around like you used to.
So how does this impact your rewards? You should get a rewards card for the place you shop the most. For many parents, including myself, this is Target and Amazon. (See also: Best Store Credit Cards)
Target REDcard™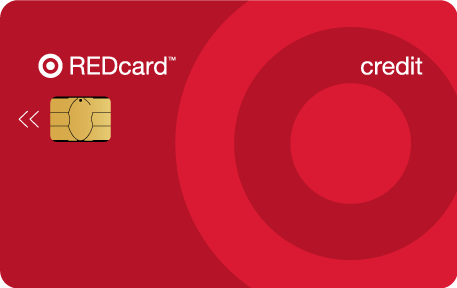 The Target REDCard™ pays you 5% back on all Target purchases. And there's no yearly fee. So, when Target becomes your go-to store for pretty much everything from diaper rash ointment to baby food to laundry detergent to bananas, this card will save you quite a bit by giving you 5% back in rewards.
Click here to learn more and apply for the Target REDcard™ today!
Amazon Rewards Visa Signature Card
For the days when you just can't get out of the house to make it to Target, or the Babies R Us is too far of a drive, you'll find yourself ordering a lot from Amazon.
In the first few months after our son was born we probably ordered items from Amazon 3+ times a week. These were items we didn't know we needed until suddenly we did. (Like the crib rail cover for when our son starting chewing on his crib and paint chips were going all over the floor and into his mouth.) Many parents also order diapers and baby food from Amazon because the bulk prices are excellent.
Amazon happens to have their own card that pays 3% back on all Amazon.com purchases and Whole Foods Market purchases; 2% back at gas stations, restaurants, and drugstores; and 1% back for all other purchases. If you're an Amazon Prime member, you can qualify for 5% back on your Amazon.com purchases. With no annual fee, if you're spending several hundred dollars a month at Amazon, this card is worth adding to your wallet.
I hope these credit cards will reward you well for the new spending your little bundle of joy will require.
Information related to the Amazon Rewards Visa Signature Card from Chase has been collected by Wise Bread and has not been reviewed or provided by the issuer or provider of this product or service.
Like this article? Pin it!