The Best Secured Cards with No Annual Fee
This post contains references to products from our advertisers. We may receive compensation when you click on links to those products. The content is not provided by the advertiser and any opinions, analyses, reviews or recommendations expressed in this article are those of the author's alone, and have not been reviewed, approved or otherwise endorsed by any bank, card issuer, airline or hotel chain. Please visit our Advertiser Disclosure to view our partners, and for additional details.
As one of the only options available for those with poor or no credit, secured credit cards have long carried a bad reputation for charging extra fees and high APRs, in addition to the security deposit required by card members just to carry the card. In many instances, these fees end up harming credit more than helping and the card user ends up with more debt and an even worse credit rating.
Over the years, secured credit cards have bounced back quite a bit by offering more reasonable opportunities for building or rebuilding credit. Not only do many secured options now offer extra incentives such as rewards programs and cardmember perks, there are cards that actually include manageable APRs and relatively low fees. Though secured cards without annual fees are rare, we've listed the best ones here. (See also: Best Secured Cards for Rebuilding Credit)
Navy Federal Credit Union nRewards® Secured Card
The Navy Federal Credit Union nRewards® Secured Card awards one point for each dollar you spend with the card. You can redeem your points at a minimum of 5,000 points, for travel certificates, gift cards, and merchandise. For instance, a $75 Navy Federal Visa Awards card is available for 7,500 points. You can earn an unlimited number of points with the Navy FCU nRewards Secured Card, but points expire in four years. A security deposit of at least $200 is required. There is no annual fee for this card.
First Progress Platinum Elite Mastercard® Secured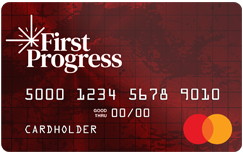 The First Progress Platinum Elite Mastercard® Secured card does charge an annual fee of $29, but it is one of the lowest APRs you'll find on a secured credit card. You'll need to make a security deposit of $200 to $2,000, which will be held in the event you default. You will receive a credit card with a limit in the amount of your security deposit.
Click here to learn more and apply for the First Progress Platinum Elite Mastercard® Secured today!
Info about the Navy Federal Credit Union nRewards® Secured Card has been collected independently by Wise Bread. The issuer did not provide the details, nor is it responsible for its accuracy.