The Best Secured Credit Cards with Low Minimum Deposit
This post contains references to products from our advertisers. We may receive compensation when you click on links to those products. The content is not provided by the advertiser and any opinions, analyses, reviews or recommendations expressed in this article are those of the author's alone, and have not been reviewed, approved or otherwise endorsed by any bank, card issuer, airline or hotel chain. Please visit our Advertiser Disclosure to view our partners, and for additional details.
Secured cards provide consumers who have had credit problems in the past, or have no credit established, an opportunity to build their credit ratings by managing their credit card account responsibly. In exchange, secured credit cards require a security deposit which is held in the event that you should default on your credit card balance. You are then able to use your credit card as you would any card, and make your monthly payments as appropriate.
The security deposit and its terms can vary according to the card issuer. If you want to get a jump on repairing your credit, but you don't have a large amount of money to use as a deposit, you can select a secured card with a low minimum deposit requirement. If you do come across funds later on, many of these cards also allow you to add to the deposit, which can increase your credit limit on the card. Here are the best secured cards with the lowest minimum deposit to get you started.
OpenSky® Secured Visa® Credit Card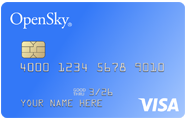 The Capital Bank OpenSky® Secured Visa® Credit Card requires a security deposit of at least $200 for a credit card with a credit limit in the same amount. Although you are allowed to increase your credit limit by increasing your deposit, there may be a $25 fee for doing so. There is no credit check so you don't get a hit on your credit score for applying. The annual fee is $35.
Click here to learn more and apply for the OpenSky® Secured Visa® Credit Card today!