Best Credit Cards for Bad Credit
This post contains references to products from our advertisers. We may receive compensation when you click on links to those products. The content is not provided by the advertiser and any opinions, analyses, reviews or recommendations expressed in this article are those of the author's alone, and have not been reviewed, approved or otherwise endorsed by any bank, card issuer, airline or hotel chain. Please visit our Advertiser Disclosure to view our partners, and for additional details.
You don't have too many credit card options when you have bad credit. One solution is to get a secured credit card, which requires a refundable deposit before an account can be opened. If you want an unsecured card, then there are a few good choices. In both cases, be prepared to deal with high interest rates, low credit limits, substantial annual fees, and more. This reflects the greater risk of loaning money to individuals who have had serious financial difficulties. But when you use these cards responsibly, you can quickly improve your credit, and will be able to qualify for a different card with more favorable terms in the future.
Unsecured vs. Secured Credit Cards
There are both unsecured and secured credit cards for bad credit that can help you rebuild your credit. The primary difference between the two types of cards is secured credit cards require a security deposit, usually at least $200, that the card issuer holds in case you default on your account. In exchange, you get a credit card with a limit in the amount of the security deposit that you can use as you would any credit card. Some credit card issuers will refund your security deposit after you manage your account responsibly for a certain amount of time, and allow you to continue using the card as an unsecured card.
On the other hand, unsecured cards for bad credit don't require a security deposit. However, because they are designed for those who may have had credit problems in the past, these cards typically carry higher APRs and higher fees, sometimes even higher than the fees you will find with secured credit cards. In both cases, the APR can be, at least, 20%, making it even more important, in either case, to pay your balance in full every month.As you use your unsecured or secured credit card, the card issuer reports to the credit bureaus, which, if managed responsibly, can help you establish a better credit rating. As your credit score increases, you will be able to qualify for credit cards with lower fees and lower interest rates.
These are the best credit cards that you can be approved for, when your credit is bad, that can help you increase your credit rating.
Best Secured Credit Cards for Bad Credit
We've also listed our favorite secured credit cards -- even though you need to leave a security deposit, they may end up being the more economical option. Plus, there are more secured cards for bad credit available than unsecured cards. If you don't qualify for an unsecured card, these secured credit cards are among the best available for rebuilding or building credit.
OpenSky® Secured Visa® Credit Card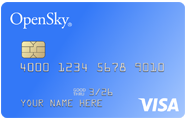 The OpenSky® Secured Visa® Credit Card has an annual fee of $35. It requires a deposit of $200 to $3,000 which will be your credit limit. Additionally, you may be approved for a credit line increase if you maintain good standing. There's no credit check needed so your credit won't be affected if you apply. This is a strong option if you can't get approved for other cards.
Highlights of the OpenSky Secured Visa
No credit checks
$35 annual fee
Credit line increase if you maintain good standing
Click here to learn more and apply for the OpenSky® Secured Visa® Credit Card today!
Additional Tips for Rebuilding Bad Credit
In addition to getting either an unsecured or secured credit card for rebuilding bad credit, you can work to improve your credit score over time by keeping the following tips in mind when you use your cards.
Check credit reports annually and correct any errors
If you have to carry a balance and pay interest, choose the card with the lowest APR available
Always make your payments on time
Keep balances manageable
Enroll in credit monitoring to keep an eye on your credit score and credit reports
Avoid extra rewards and benefits if the card has extra fees or if you have to carry a balance