Best Credit Cards to Rebuild Credit After Bankruptcy
This post contains references to products from our advertisers. We may receive compensation when you click on links to those products. The content is not provided by the advertiser and any opinions, analyses, reviews or recommendations expressed in this article are those of the author's alone, and have not been reviewed, approved or otherwise endorsed by any bank, card issuer, airline or hotel chain. Please visit our Advertiser Disclosure to view our partners, and for additional details.
After filing for a bankruptcy, it might feel like your finances can never recover. The first step to rebuilding your credit is to add on-time payments and responsible use of credit to your credit report. And even though your credit score is low, you can still find good credit cards available to help those like you rebuild credit even with a previous bankruptcy.
Should I Get a Credit Card After Bankruptcy?
If you have gone through a bankruptcy, then you need to be on guard before applying for a credit card. Many credit cards prey on those with bad credit, charging high fees based on your credit score. Also, if your previous financial troubles were due to overspending and overcharging, it simply may not be wise to jump back into the credit card pool. Begin your road to recovery by making wise financial choices.
What Type of Card Should I Look for After Bankruptcy?
Even though your options for credit cards are limited with a bankruptcy on your record, it doesn't mean you have to settle for a card with high interest and fees. There are good cards tailored for those with bad credit. See below for our recommendations.
Once you've used one of these cards responsibly for about six months, check your credit score again to see if it's gone up. Moving from a "bad" score to an "average" score could open up more credit card options for you. Once you've established a good habit of using credit cards, you can move on to credit cards that offer rewards, benefits, and even cash back. (See also: Best Credit Cards for Average/Fair Credit)
Consider a Secured Credit Card
Secured credit cards are a good choice for those recovering from bankruptcy. Many don't run credit checks, which mean one less ding on your score while you're trying to rebuild it. They also require a security deposit which determines your credit line. This means that the opportunity to charge more than you can pay for is diminished. It's the perfect training wheels card for those learning to manage their finances responsibly. At the same time, your on-time payments will be reported to the credit bureaus and your score will begin to recover. We've listed the best secured credits cards below.
Best Credit Cards After Bankruptcy
OpenSky® Secured Visa® Credit Card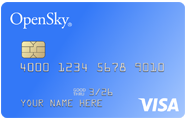 The OpenSky® Secured Visa® Credit Card offers a credit line between $200 and $3,000 secured by a refundable security deposit. Its regular 17.39% variable APR and $35 annual fee are reasonable among secured credit cards. It's a solid option for those struggling to get approved for other cards.
Click here to learn more and appy for the OpenSky® Secured Visa® Credit Card today!