Quicksilver Cash Rewards Credit Card offers simple, easy 1.5% cash back on all your purchases. Take advantage of the sign-up bonus plus the zero interest rate intro offer on purchases.
Super Simple $200 Sign-Up Bonus
You'll get a $200 cash bonus after spending $500 on purchases within the first 3 months of opening the account. That's 40% cash back! This card is perfect for anyone who wants to put some extra cash in their pocket just for using their new card.
Unlimited 1.5% Cash Back on Every Purchase
Are you tired of rewards programs that change spending categories every quarter? Are you confused about the different percentage points for different purchases? It can make your head spin, but Quicksilver is different. You get unlimited 1.5% cash back on every purchase with no rotating or bonus categories to worry about. You don't have to keep track of spending percentages or sign-up for different categories to qualify.
Every purchase earns a hassle-free, flat rate of 1.5% cash back. Just use this card for all your purchases, and you can rest assured you're getting the highest flat rate percentage of any cash back credit card.
Plus, there are no caps or limits on how much you can earn with your card. No other rewards card offers a higher, unlimited flat rate. You can be confident that you're getting one of the highest cash back rewards available - all for no annual fee!
Zero Interest Until Middle 2021
Even better, this card offers a 0% APR intro for 15 months on purchases! That means you can make a large purchase without paying interest until the end of 2022. So, plan on an awesome family vacation or home improvement project without any interest charges. (14.99% - 24.99% variable APR after the intro period)
This card is also one of the few that do not charge a balance transfer fee, so you can move over your balance from a high interest credit card to save on interest every month to help you pay down your balance faster!
Other Awesome Benefits for Shoppers
Besides having no annual fee, there are no foreign transaction fees, saving you money on purchases when you're on vacation outside of the U.S. Most cards have a foreign transaction fee of at least 3%, which can add up if you're in Paris and stocking up on souvenirs.
Who Should Get This Card
Quicksilver Cash Rewards Credit Card is the best cash back card for anyone who doesn't want to deal with rewards categories that constantly change and require another reactivation. Four big benefits – $200 cash bonus offer, unlimited 1.5% cash back on every purchase, 0% APR intro for 15 months on purchases and balance transfers, and no annual fee – make this the perfect cash back rewards card for almost everyone.
Editor's Pick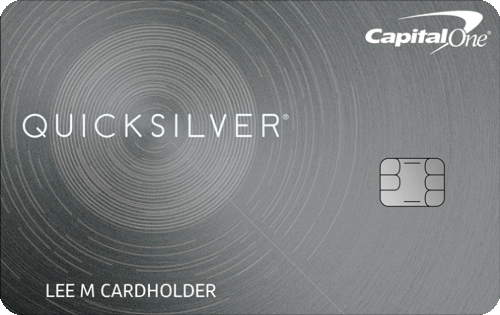 Apply Now
at Capital One's secure site