How to find the cheapest college textbooks
I'm not in college any more, thank goodness, but I remember every penny-pinching moment. Some days I hardly had enough money for food, mainly because the materials and textbooks I had to buy ripped a hole in my pocket the size of the Grand Canyon. And so I'm always on the lookout for ways to help out college students. Today, I found two.
There are numerous methods available to search for textbooks, including the ever-popular "shopping" search option in Google. But if you want to go deeper, a few of my favorite sites in the past have included:
Abebooks.com
Addall.com
Amazon.com
Alibris.com
Craigslist.org
Bizrate.com
Half.com (which is part of eBay)
Textbooksnow.com
No doubt you've used one or two of these already. But it's a pain to search each one and compare results. Usually, you find the book you want, ponder the price and then pay. Not good enough for me. I want to help students, who are suffering like the rest of us in this hellish economy, to get the absolute rock-bottom price on any book they're looking for.
So I did a little more hunting around and found some much more powerful search engines, devoted to scouring multiple books sources at once. The two I like the most are CAMPUSBOOKS.COM and BIGWORDS.COM. And they really are the ultimate search engines for books, especially textbooks.
All you need to know are a few basics about the book you're searching for. The easiest way is to have the ISBN number readily at hand. If that's not available, you can search by keyword, author, title, the usual search engine options. And as you can see, the results from both sites are impressive. Here are two searches I did for an advertising book I love called "Hey Whipple, Squeeze This."
CampusBooks results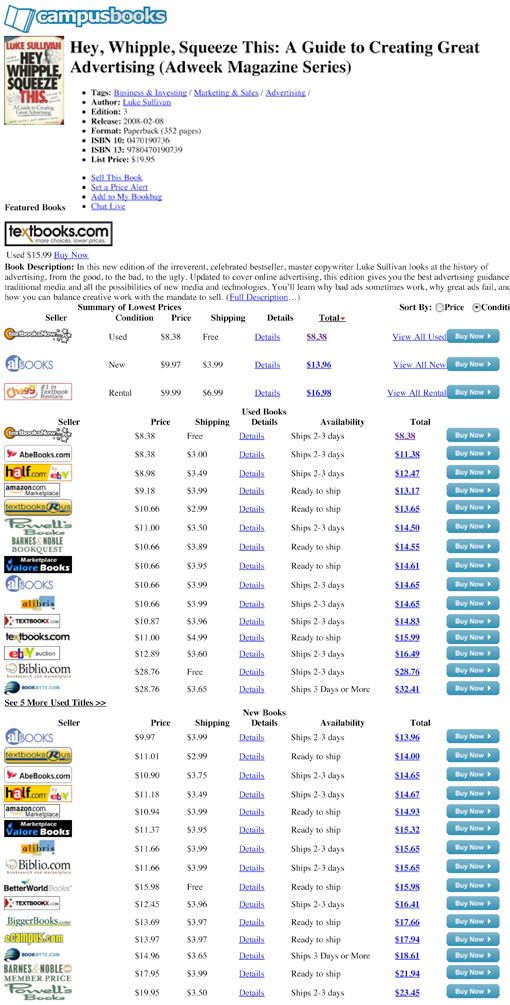 BigWords results, via their Uber-Marketplace
They're both great resources, offering different results, so try them both for size.
No money left to buy books? Well, there are also several ways to check out books for free. You have the library as an option, but that of course comes with limited time restrictions. If you're looking for something more permanent, you should take a look at the following rockin' free online resources:
Project Gutenberg
Google Books
Many Books
Remember, the campus book store won't give you the bargains you want. Neither will the usual book stores like Barnes & Noble and Borders. If you want your textbooks at the lowest possible price, online is the way to go.

Disclaimer: The links and mentions on this site may be affiliate links. But they do not affect the actual opinions and recommendations of the authors.
Wise Bread is a participant in the Amazon Services LLC Associates Program, an affiliate advertising program designed to provide a means for sites to earn advertising fees by advertising and linking to amazon.com.