Best Hassle Free Travel Card Also Has The Highest Rewards
This card offers 1.5x points, no annual fee, no foreign transaction fee, and a 20,000 point bonus offer (worth $200 in travel)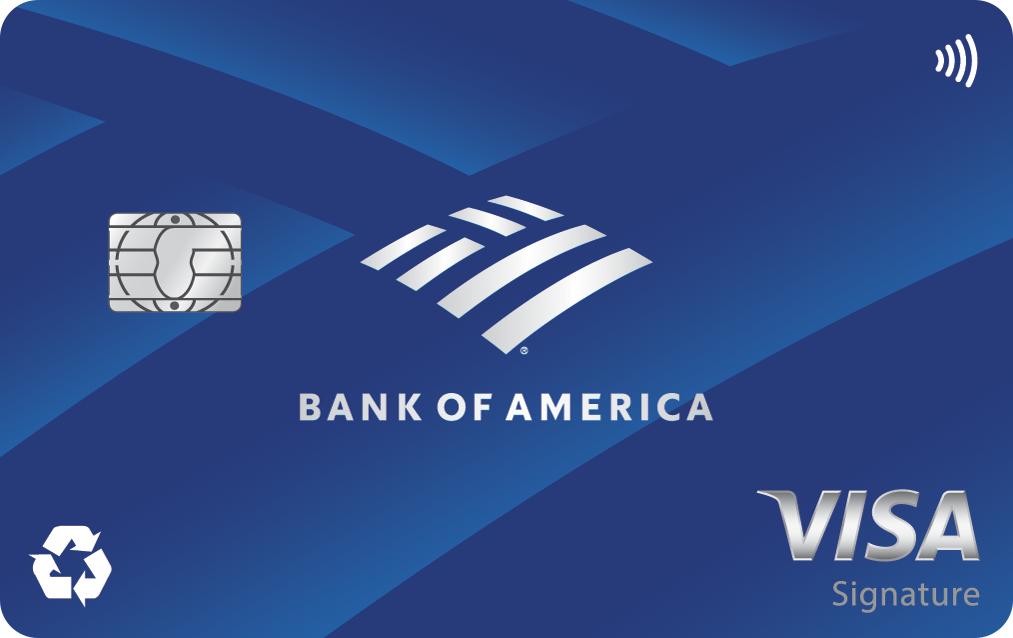 Apply Now
at Bank of America's secure site
Pros
20,000 point bonus offer worth $200 for travel (after $1,000 spend in first 90 days)
1.5 points per dollar spent
No annual fee
No foreign transaction fees
10%-75% points bonus for Bank of America customers
16.74%-24.74% Variable APR
Double points (3 points) at Bank of America Travel Center
+ more
by Greg Go - July 22, 2018
Greg Go is a credit card expert whose financial advice has been featured on US News & World Report, Business.com, and Yahoo! Finance.
As a personal finance contributor for Wise Bread, I have reviewed dozens of travel credit card deals each year. I've also planned several free vacations for my own family using travel credit cards.
The travel card that I recommend most frequently to my family and friends is the Bank of America® Travel Rewards Credit Card.
This card is the winner of Kiplinger's Best Travel Credit Card of the Year honors, and for good reason.
» Click here to learn more about the Bank of America® Travel Rewards Credit Card
Best Combination of Features
This card has the best combination of ultra high rewards, no fees, and simple no-hassle reward redemptions.
Ultra High Rewards (Best In Its Class)
$200 bonus for travel. Spend $1,000 in purchases in first 90 days of account opening and you get 20,000 bonus points which can be redeemed for a $200 statement credit towards travel purchases.
1.5 points per dollar spent on all purchases, everywhere, everytime. You get 1.5 points for every $1 you spend, which can be equivalent to 1.5% cash back when you redeem those points for statement credits on travel expenses. No messy "categories" to worry about when trying to earn rewards. (Note: if you use the Bank of America® Travel Center to book travel, you'll earn double the points (3 points for each dollar) on those purchases.
Additional 10% bonus if you have an active Bank of America® checking or savings account. If you're a Bank of America Preferred Rewards client, you could increase that bonus 25-75%.
No Fees
This is one of the very few travel cards that has no annual fee AND no foreign transaction fee.
16.74%-24.74% Variable APR
No hassle
Use your card to book your trip on any website you want.
No points expiration or blackout dates.
Use your rewards bonus on any travel purchases you like. You are not stuck having to only use specific hotel or airlines like some other cobranded cards.
Are There Any Cons?
The Bank of America Travel card is a reward for people with great credit. If you have missed one or two credit card payments last year, or if you are close to maxing out your credit cards, you probably won't get approved.
For alternatives, consider these other travel credit cards that have annual fees but different benefits:
If you spend a lot on dining and travel, it makes sense to get 2X points on that spend with the Chase Sapphire Preferred® Card. There is also a 50,000 point bonus offer (worth $625). $95 annual fee is waived the first year.


For a simpler travel card, you can earn 2X points on any purchase and a 50,000 point bonus (worth $500) with the Capital One® Venture® Rewards Credit Card. $95 annual fee is waived the first year.

The Bottom Line
This card is best for people who want really high travel rewards without the hassle of jumping through dozens of hoops.
The unlimited 1.5 points per dollar is one of the best in the industry. It is 50% more than most other rewards card out there.
Some other card may offer a high percentage of cashback. But if you look closely there's often limits on how much you can earn, and you usually have to earn it in a specific category of purchase at a specific time. If you're not good at keeping track of things like that you'll end up missing out on all those supposed benefits.
Bank of America Travel has no limits on how much you can earn, and no categories to worry about.
If you enjoy a card with ultra high rewards, no hidden fees, and set-it-and-forget-it reward redemptions, this is the card for you.
» Click here to learn more about the Bank of America® Travel Rewards Credit Card