Old calendars never really go out of date.
This little fact was big news to me. I was casually flicking through a magazine at work when something caught my eye; it was buried in the bottom corner of one page and stated that you can use old calendars in the years to come. And this year, there are a bunch of great old dates to choose from.
As some of you may already know, there are a limited number of combinations for calendars – 14 to be exact (half account for years with 365 days, the other half for leap years). Big deal? Probably not, but here's why it excites me.
In this day and age of personalization, tattoos, piercings and various other ways to flaunt our individuality, most of us are looking for ways to express ourselves and make our surroundings more unique.
From an office cubicle to a garage or kitchen, we seek out items that say a little more about us. And for some of us, that often means going retro. I, for one, would prefer a calendar on my wall that stood out; maybe one from my pre-teen years when I was hooked on Buck Rogers and crappy Glen A. Larsen TV shows, and movies like the original Star Trek and The Black Hole. Oh, and 1987 was the year The Lost Boys was made...love that flick!
They don't make 2009 Calendars for most of those shows and movies now. Why would they? But, they certainly did back in the day. And with the advent of eBay and Craigslist, you can pick up a piece of the past for the same price as a modern calendar (or a lot less in some cases) and proudly display it on your wall as a functioning 2009 calendar.
For the packrats amongst you, there may already be a stack of calendars in your basement or attic that once served you well. And now, they can again (the days are the same, although as fellow Wisebread blogger Philip Brewer pointed out to me, one or two of the events and holidays may be different). Anyway, here's a list of old calendar years that will work in 2009: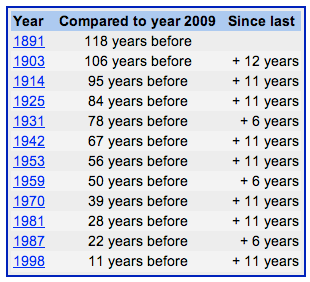 A website called Time & Date lets you plug in your desired year to see calendars that will work for the year you want. In 2010, if you're planning ahead, look for the following dates: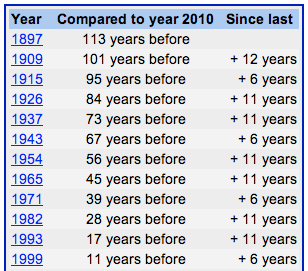 Personally, I'm looking around for an old movie calendar or maybe a classic Norman Rockwell. Maybe you want a pop or rock group, or a TV show from back in the day. But whether you go to old boxes in the basement, or new websites full of old collectibles, it's a fun way to bring a little useful nostalgia into 2009. Happy New Year.

Disclaimer: The links and mentions on this site may be affiliate links. But they do not affect the actual opinions and recommendations of the authors.
Wise Bread is a participant in the Amazon Services LLC Associates Program, an affiliate advertising program designed to provide a means for sites to earn advertising fees by advertising and linking to amazon.com.