The Best Credit Cards for College Students
This post contains references to products from our advertisers. We may receive compensation when you click on links to those products. The content is not provided by the advertiser and any opinions, analyses, reviews or recommendations expressed in this article are those of the author's alone, and have not been reviewed, approved or otherwise endorsed by any bank, card issuer, airline or hotel chain. Please visit our Advertiser Disclosure to view our partners, and for additional details.
When I was in college, my mom seemed to call me nearly every week to confirm that I was paying my entire credit card balance in full and on time. It was as if she knew that credit cards and college students do not have a good history together. At the time, banks were employing every tactic possible to get large amounts credit into the hands of young adults. So much so that many felt these banks were acting more like predatory lenders than respectable financial institutions. In response, Congress passed the CARD Act of 2009. This groundbreaking piece of legislation set limits on banks' on-campus marketing efforts and required young adults who applied for credit cards to show some means of paying off loans.
Nevertheless, students continue to obtain and abuse credit cards. They tend to incur debt and struggle to make payments on time. While these are bad practices at any stage of life, starting these habits at a young age sets a terrible precedent for how students will continue to manage their finances after graduation. Therefore it is critical that parents work closely with students to carefully guide them into financial independence. (See also: 40+ College Resources for Parents and Students)
Choosing the Best Student Credit Card
So what should parents and students look for in a credit card? Look for simple terms, no annual fees, and if possible, maybe some cash back rewards. You don't want to get in the habit of paying interest on your credit card balance, but if you have to, it shouldn't be well outside the market rates. Also, opening up a credit card account at the same bank that the student holds their checking account is a great idea. This way, timely payments are just a transfer between accounts rather than a transaction between separate institutions.
Journey® Student Rewards from Capital One®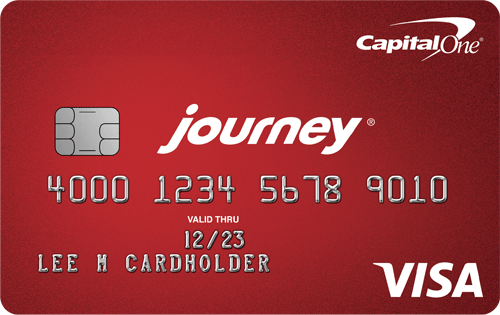 The Journey® Student Rewards from Capital One® is marketed to students and features 1% cash back on all purchases, every month, with no annual fee. In fact, Capital One offers an additional 0.25% cash reward on the cash back earned each month when cardholders pay on time.
Click here to learn more and apply for the Journey® Student Rewards from Capital One® today!
No matter which card they choose, students face treacherous path on their road to financial independence and responsibility. By working together to choose the best card for their needs, parents and students can smooth out this critical path to adulthood.