The Best Secured Credit Cards
This post contains references to products from our advertisers. We may receive compensation when you click on links to those products. The content is not provided by the advertiser and any opinions, analyses, reviews or recommendations expressed in this article are those of the author's alone, and have not been reviewed, approved or otherwise endorsed by any bank, card issuer, airline or hotel chain. Please visit our Advertiser Disclosure to view our partners, and for additional details.
Secured credit cards have a bad reputation, and most of these products deserve it. Too often, the companies that offer secured cards do so to prey on those with poor or little credit history by charging exorbitant interest rates and outrageous fees. But using the right product from a reputable institution, holders of secured cards can repair or build their credit while enjoying many of the benefits of standard credit cards that they might not qualify for. (See also: How to Pick the Best Secured Credit Card to Repair Your Credit)
How a Secured Card Works
Standard credit cards are not secured by any property or deposits that can be repossessed in case of default. Therefore, applicants for these unsecured loans must first be able to show banks a strong credit history. On the other hand, almost any applicant will qualify for a secured credit card. With a secured card, the cardholder must first pay a security deposit that protects the bank against the risk of default. In all other ways, a secured card operates just like a standard credit card. Cardholders receive monthly bills that they must pay on time or incur interest and penalties. At the same time, banks will report payment information to the credit bureaus, allowing cardholders to build their credit history.
What to Look for in a Secured Card
Your first priority in shopping for a secured card will be to stick with a reputable bank and avoid the numerous products with high interest rates and unreasonable fees. Shoppers should look for a card with a low annual fee and perhaps one that might earn interest on their deposit. Finally, applicants should be aware that not all banks guarantee acceptance, so those with outstanding liens or a recent bankruptcy will not qualify for some of these cards.
Top Secured Credit Cards
These are some of the top secured credit cards currently available.
OpenSky® Secured Visa® Credit Card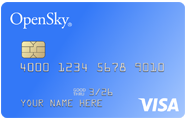 With the $35 annual fee, the OpenSky® Secured Visa® Credit Card is a strong contender on this list. There's no credit check so you don't need to worry about an inquiry affecting your score, or even getting declined because of it. Choose your credit line as low as $200 up to $3000, secured by a full-refundable security deposit.
Click here to learn more and apply for the OpenSky® Secured Visa® Credit Card today!
First Progress Platinum Prestige MasterCard® Secured Credit Card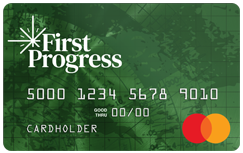 First Progress offers three versions of its secured credit cards, the Prestige, Elite, and Select. There are no credit checks for preapproval of the cards, which can be helpful if you want to first see if you qualify before a hard inquiry. However, there may be a hard inquiry on your credit report in order to be fully approved for the card. The First Progress Platinum Prestige MasterCard® Secured Credit Card charges a higher annual fee of $49, but offers a lower APR.
Click here to learn more or apply for the First Progress Platinum Prestige MasterCard® Secured Credit Card today!
When You Should Get a Secured Card
Those who have poor credit or no credit history may be tempted to just wash their hands of the entire credit card business. Unfortunately, that would be a mistake. Obtaining a secured card and making on-time payments is a critical way to repair or build one's credit. Whether it is right or wrong, companies today use credit scores for any loan application, background checks when hiring, and for setting rates for services such as car insurance. Furthermore, travelers will find it difficult or impossible to reserve a hotel room or rent a car without holding a credit card. (See also: How to Rebuild Your Credit)
Like this article? Pin it!