The Best Low Interest Rate Credit Cards
This post contains references to products from our advertisers. We may receive compensation when you click on links to those products. The content is not provided by the advertiser and any opinions, analyses, reviews or recommendations expressed in this article are those of the author's alone, and have not been reviewed, approved or otherwise endorsed by any bank, card issuer, airline or hotel chain. Please visit our Advertiser Disclosure to view our partners, and for additional details.
The only thing more challenging than managing credit card debt is getting out of it. To accomplish this important goal you need a sound budget, plenty of discipline, and a credit card with the lowest possible interest rate. (See also: The Best 0% Balance Transfer Cards)
How to Find the Lowest Interest Rates
Every bank is legally required to clearly disclose each card's Annual Percentage Rate, or APR. This is the rate you will see in the black and white box (also known as the Schumer Box) when you click on the "terms and conditions" link. While you might think these disclosures make choosing the lowest APR an easy task, it is not that simple. Most banks will disclose a range of possible rates, with each applicant being offered a particular APR according to his or her credit rating. Therefore, the lowest rates available will be granted only to those applicants with the highest credit scores, with all other cardholders receiving higher rates.
Another important aspect of a credit card interest rate is that nearly all of them will have a variable rate. The good news is that the CARD Act of 2009 prevents banks from arbitrarily raising their rates on cardholders in good standing. What you will find is that nearly every card on the market will offer a variable APR that is based on the Prime Rate. This rate is determined in part by the Federal Government. The variable interest rates quoted by the credit card issuers will rise when the Prime Rate does.
The Lowest APR Cards on the Market
These cards currently have the lowest interest rates.
BankAmericard® credit card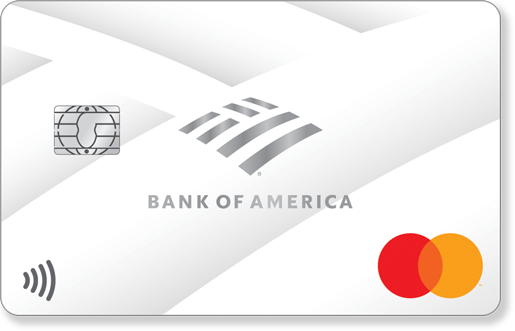 The BankAmericard® credit card now offers a $100 statement credit online bonus after making at least $1,000 in purchases in the first 90 days of account opening. There is a 0% Introductory APR for 18 billing cycles for purchases, and for any balance transfers made in the first 60 days. Then a 13.24% - 23.24% Variable APR will apply. A 3% fee (min $10) applies to balance transfers. It's great for people who want a low-interest card in case they have to carry a balance from time to time. There is no annual fee.
Click here to learn more and apply for the BankAmericard® credit card today!
Like this article? Pin it!