The Overdraft Protection Racket: Why Banks Want You To Overdraw, And How You Can Get Your Money Back.
I know banks are hurting for money right now, but no more than the rest of us. And one aspect of modern banking that I find most disturbing is how banks allow you to go overdrawn so that they can charge you a hefty fee.
I found this out the hard way recently. I pride myself on keeping a close eye on my bank account. I check it daily, I know what is going in, what is coming out, and I had never been overdrawn until a few weeks ago. An unexpected, and large, bill came out of our account and I didn't realize it until after I had received the receipt. By that point, it was too late. I was overdrawn, and even though I transferred money immediately to put our account back in good standing, the damage had been done.
Rather than reject any subsequent debits after the bill that put us overdrawn, my bank (Compass Bank) simply let everything go through. Then, they added a $38 overdraft fee to each debit. Is this my fault? Partly, I admit that even though the debit was unexpected, I should have had a bigger buffer in the account.
However, if I had known that the few things I had bought that morning were going to cost me a whopping $38 on top of the price, I wouldn't have spent the money.
Some of the things I bought that day included:
A tank of gas - $36.65 + $38 NSF fee
Breakfast – $19.99 + $38 NSF fee
Lunch - $8.95 + $38 NSF fee
All of those transactions were electronic. I carry two debit cards, one for my home checking, one for my business. Had I paid with my business checking, there would have been no problem. And if I had been told in any of those situations that the debit was going to cost me $38 extra, I obviously wouldn't have used the home checking account. Yes, it would have been a little embarrassing to have hard my card declined, but I can handle that compared to the fees that totaled $228 dollars on top of the small items I had bought.
Considering I was only in the red for a few hours, the fees I paid were equal to something like a 4000% interest rate! That makes loan sharks look like Finding Nemo.
In these days of electronic funds transfer, banks know exactly what you have in your account. And it seems there are three options open to our institutions:
1: Simply deny the debit
2: Allow the debit to go through, but require authorization from you, the customer, to proceed and pay the overdraft fee
3: Let the debit go through, say nothing, and ding your account for a whopping fee.
Guess which one our banks have chosen? That's right, option three. They would rather not tell us about a charge, as most of us would probably not make the purchase. And this is an opt out "service" that almost all banks have on your accounts. You have to inform them that you don't want this service, but how many of us read the fine print in the pages and pages of legal jargon that you have to sign when you open an account? In some instances, the banks won't even let you opt out. You have to have the service to have the account. They say it's for our convenience, but come on, we all know how bastardized that word has become these days.
A recent story on MSNBC highlighted the case of a guy called Clifford Phillips, who used his debit card to pay for a latte. There wasn't enough money in his account, so his $4 coffee ended up costing him $38 (hmm, I should switch to his bank, their NSF fee is $4 lower than Compass Bank's). As Herb Weisbaum reported:
Phillips didn't know his account had this overdraft feature and doesn't want it. He tells me he prefers "the embarrassment of having the transaction denied" to being socked with a $34 fee. But the bank won't let him cancel.
"That's not customer service, that's exploitation," he says. "I should have the right to say I don't want it."
And this is big business for the banks, too. According to Weisbaum's article, "Consumers Union figures the nation's banks collected about $7.8 billion last year in overdraft fees related to debit cards and ATM withdrawals. If they changed the opt-out service to an opt-in service, they would no doubt lose billions in fees. "
So, what can you do if you have been hit with these massive fees? Well, in my case I called Compass Bank and complained. I eventually got two of the six fees debited back to my account. Not good enough for me, but that's all I was getting.
However, a video I saw recently had the protagonist going one step further. He took the bank to court. And rather than paying a high-priced lawyer to go to court and fight the suit, the bank simply called back and refunded all of the overdraft fees, plus the costs of filing the lawsuit.
There are also a bunch of great books out there covering this growing consumer problem. Some touch on it, others go in depth. Amazon has the following books that I heartily recommend.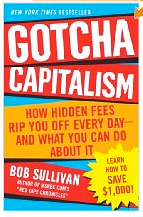 Gotcha Capitalism: How Hidden Fees Rip You Off Every Day-and What You Can Do About It
Fight For Your Money: How to Stop Getting Ripped Off and Save a Fortune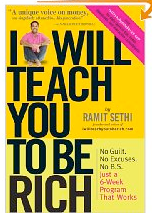 I Will Teach You To Be Rich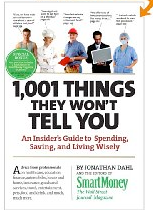 1,001 Things They Won't Tell You: An Insider's Guide to Getting the Most Bang for Your Buck
Bottom line is this. Ultimately, it's your money and you should keep a close eye on it. Don't go overdrawn. However, these things do happen, and you don't want to be hit with multiple NSF fees. Instead, opt out of that service and ask your bank about other forms of overdraft protection. Most are based around a credit account that charges you a substantial rate of interest, but it's much cheaper than $38. If you have the option, link your savings account to your checking account; when you do overdraw, the bank will simply start pulling money from your savings account. A much better, cheaper option, but one that my bank does not offer.
These are hard times. We don't need extortionate fees at a time when most of us are already feeling the pinch of a tight economy. Stand up to the banks, and fight every fee.