The Best Travel Reward Credit Cards
This post contains references to products from our advertisers. We may receive compensation when you click on links to those products. The content is not provided by the advertiser and any opinions, analyses, reviews or recommendations expressed in this article are those of the author's alone, and have not been reviewed, approved or otherwise endorsed by any bank, card issuer, airline or hotel chain. Please visit our Advertiser Disclosure to view our partners, and for additional details.
There are few things as alluring as the promise of free travel to exotic destinations. The banks know this, and have long offered travel rewards to customers for using their credit cards. In turn, savvy credit card users maximize their rewards to travel in comfort and style well beyond their means. (See also: How Travel Rewards Credit Cards Really Work)
Recently, I was explaining this to an European executive sitting next to me in Lufthansa's Airbus A380 business class while returning home from a vacation in Italy. I told him that my family and I could not possibly have paid for our three $7,000 tickets for this flight. But thanks to my travel rewards credit cards, my journey was all but free after some taxes and fees. Through careful selection and use of rewards, these kinds of trips have become an annual occurrence for my family. While there are innumerable ideas, tips, and tricks to be gleaned from endless hours of research, my mission is to do the work for you and deliver only the most valuable advice to busy people who lack the time and patience to discover and decipher these deals. (See also: Cash Back vs Travel Rewards: Pick the Right Card for you)
Choosing The Best Travel Rewards Credit Cards
It would be nice to pick the best travel reward cards in a purely empirical manner, the way one would choose a card with the lowest interest rate. Unfortunately, each travel rewards card offers a unique mix of benefits and drawbacks, and rarely is one card ideally suited for everyone's travel aspirations. I have read thousands of blog and forum posts, written hundreds of credit card reviews, and personally held dozens of different travel rewards cards over the last twenty years. In the end, I judge these cards based on three criteria:
Value: The return in cents per dollar spent
Flexibility: Cards that offer the most opportunities for redemptions — no blackout dates, a variety of partners, etc.
Costs And Fees: If fees are justified by its rewards and benefits
Of all the travel rewards cards currently offered, these are the ones I find most rewarding.
Chase Sapphire Preferred® Card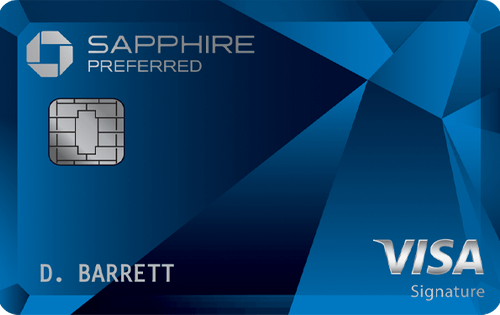 Cardholders of the Chase Sapphire Preferred® Card are able to transfer their points to Chase travel partners at full value — 1,000 Chase points equal 1,000 partner miles/points. Or get 25% more value when you redeem for airfare, hotels, car rentals and cruises through Chase Ultimate Rewards. You can also earn 2X points on travel and dining at restaurants & 1 point per dollar spent on all other purchases worldwide. Cardmembers also get no delivery fees and reduced service fees on orders over $12 for a minimum of one year on qualifying food purchases with DashPass, DoorDash's subscription service (activate with your Chase Sapphire card by December 31, 2021), and 5X points on Lyft rides through March 2022. There are no foreign transaction fees. The annual fee is $95.
Bonus offer: Earn 60,000 bonus points after you spend $4,000 on purchases in the first 3 months from account opening. That's $750 in travel when you redeem through Chase Ultimate Rewards®.
Click here to learn more and apply for the Chase Sapphire Preferred® Card today!
Conclusions
No discussion of rewards credit cards is complete without the warning that these products are only best for those who always pay their balances in full and never incur interest. Everyone else should use the card with the lowest APR. That said, if you do pay your balance off every month, and you love to travel, then you have much to gain by applying for and using one of these top travel rewards cards. Join me in the exciting world of those who regularly travel for free.
My wife and daughter on one of our trips earned through travel rewards cards:
Like this article? Pin it!